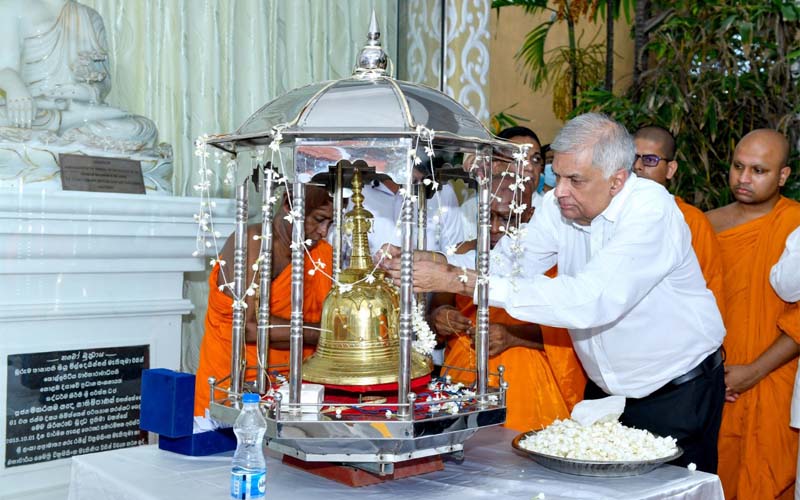 The President participates in the Esala Maha Perahera traditional rituals at the Walukarama Maha Viharaya, Kollupitiya.
The performance of traditional rituals of the annual Esala Maha Perahera at the Walukarama Maha Viharaya, Kollupitiya and offering of flowers to the sacred marble Stupa (dagaba) of the Padmakara type (lotus shape) which was brought from Myanmar was held with the participation of President Ranil Wickremesinghe yesterday (23) afternoon.
The President offered flowers to the sacred marble Stupa firstly, following the arrival at the temple. Subsequently with the placing of the casket enshrined with the sacred relics (Sadhathuka Karanduwa) inside the Dhathu Mandiraya by the President, the carpet procession (Pavada Perahera) of the 59th annual Esala Maha Perahera of the Walukarama Viharaya commenced.
The President was presented with a sandalwood Buddha statue by Chief Incumbent of Walukarama Maha Viharaya and Chief Prelate of Uva Province including Kolamba Disawa, Ven. Maharagama Nanda Thera and Walukaramadhikari Ven Uduwela Kolitha Thera.
The event was held presided by Chancellor of the University of Sri Jayewardanepura, Chief Prelate (Mahanayake) of Kotte Sri Kalayani Samagri Dharma Maha Sangha Sabha of Siyam Maha Nikaya, Ven. Dr. Ittapana Dhammalankara Maha Nayake Thera.
Ven. Maha Sangha from the three chapters, Prime Minister Dinesh Gunawardena, Ministers Nimal Siripala de Silva and Vidura Wickramanayake, Ambassador of Myanmar to Sri Lanka, United National Party (UNP) leader and Parliamentarian Vajira Abeywardena, Chief of Staff to the President and Senior Advisor to the President on National Security Sagala Rathnayake, General Secretary of the UNP Palitha Range Bandara and former ministers Daya Gamage and Anoma Gamage also participated in the meritorious ceremony.