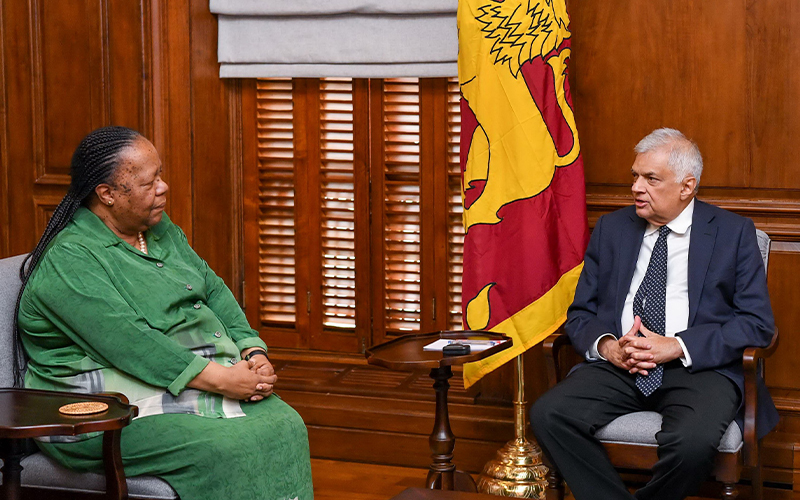 Published on: October 10, 2023
UK Minister of State for the Indo-Pacific, South Africa's Minister of Foreign Affairs call on President Ranil Wickremesinghe
In a significant diplomatic engagement, UK Minister of State for the Indo-Pacific, Anne-Marie Trevelyan, paid a courtesy call on President Ranil Wickremesinghe during her visit to Sri Lanka to attend the Indian Ocean Rim Association (IORA) summit. The meeting took place today(10).
During their discussions, a wide range of crucial topics were on the agenda, including Sri Lanka's economic recovery efforts. Both sides delved into the progress of several vital pieces of legislation, including the Truth and Reconciliation bill, the Online Safety Bill, and the Anti-Terrorism Bill.
President Wickremesinghe shared his plans to introduce private universities to Sri Lanka and expressed optimism about the potential involvement of universities from the United Kingdom in this endeavour.
Simultaneously, South Africa's Minister of Foreign Affairs, Dr. Naledi Pandor, who is also in Sri Lanka attending the IORA summit, met with President Ranil Wickremesinghe. The President conveyed his appreciation for South Africa's support in the development of the Truth and Reconciliation Commission and indicated that he would soon present it to Parliament, hoping for its enactment by the year's end.
Addressing the future of IORA, President Wickremesinghe outlined his vision for strengthening the region's identity during Sri Lanka's tenure as Chair. He proposed holding leader's meetings of member states every two years, alongside regular Ministerial consultations, emphasizing the Indian Ocean's unique political identity.
President Wickremesinghe extended his support to the statement made by the African Union concerning the Israel-Hamas conflict, emphasizing the importance of ensuring peace. He also expressed keen interest in expanding Sri Lanka's collaboration with South Africa in the field of climate change.
Accompanying President Wickremesinghe were Senior Advisor to the President on National Security and Chief-of-Staff Mr. Sagala Ratnayaka, Director of International Affairs Mr. Dinouk Colombage and Director General of the Foreign Ministry Ms Shobini Gunasekara.