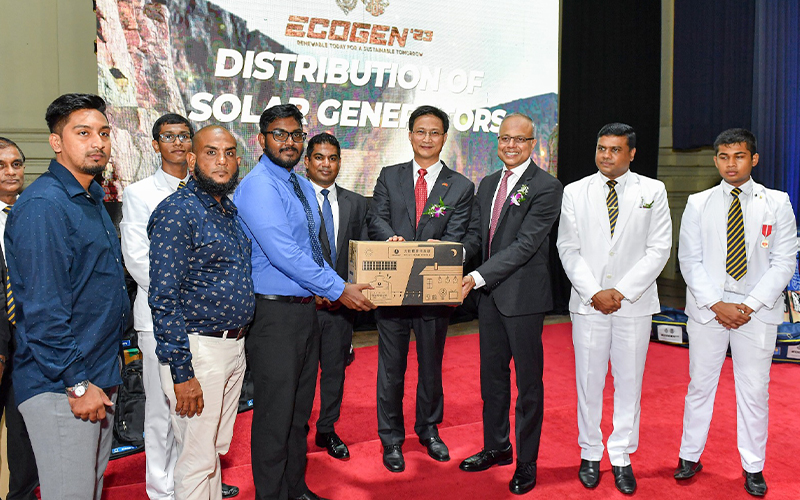 Published on: September 21, 2023
To compete in the global economy, we must earn the world's trust – Sagala Ratnayaka
Mr. Sagala Ratnayaka, Senior Adviser on National Security to the President and Chief of the Presidential Staff, emphasized the importance of gaining the trust of the global community to compete in the international economy. He highlighted that Sri Lanka should adopt international standard laws and regulations and manage its economy accordingly to align with the global economy.
These remarks were made by Mr. Ratnayaka during a ceremony held today (21), at the Royal College Auditorium in Colombo. At this event, solar power systems sponsored by the Chinese government were distributed to selected religious shrines and elderly care homes, cricket equipment kits were provided to chosen schools and school bags were distributed to selected students.
Mr. Ratnayaka stressed that transparent economic management would instil confidence in international investors, encouraging them to invest in countries with stable economies. He underlined the government's responsibility to create a secure environment for investors and noted the President's commitment to this endeavour. He also emphasized that citizens should act in ways that reinforce investor confidence.
Furthermore, Mr. Sagala Ratnayaka mentioned that the President has pledged to transform Sri Lanka into a developed country by 2048 and initiate environmentally friendly (NEX-0) programs by 2050 to reduce toxic emissions. He called on citizens to contribute to these programs.
The event was attended by Power and Energy Minister Kanchana Wijesekera, Chinese Ambassador to Sri Lanka Qi Zhenhong, the Principal of Royal College Colombo, members of the Leo Society, teachers and students from Royal College.