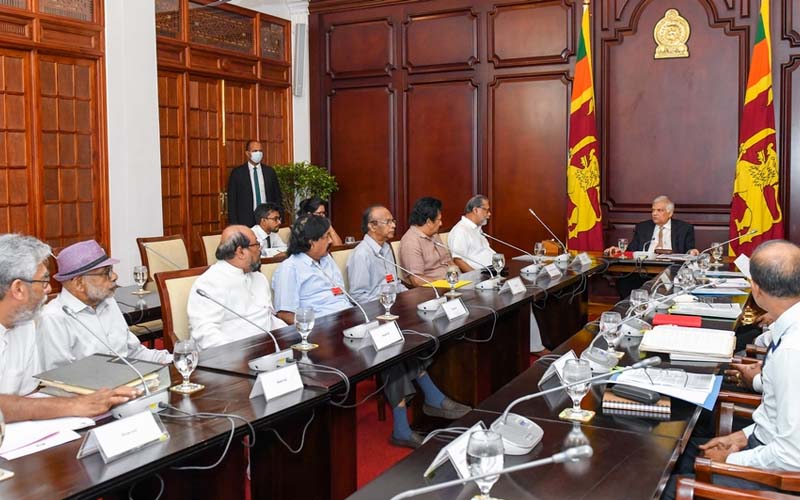 Published on: January 30, 2023
The President presides over discussions on future activities of the Sinhala Cultural Institute
President Ranil Wickremesinghe instructed the Minister of Buddhasasana, Religious and Cultural Affairs Mr Vidura Wickramanayake to prepare and submit a Cabinet memorandum for the upcoming activities of the Sinhala Cultural Institute.
In order to continue the Sinhala Cultural Institute's activities which protect the nation's cultural identity, the President also encouraged the formation of a joint committee with the Ministry of Cultural Affairs.
President Wickremesinghe issued these instructions during the discussion held at the Presidential Secretariat this morning (30) regarding the site of the Sinhala Cultural Institute.
The existing problems related to maintaining the Sinhala Cultural Institute were extensively discussed.
The President stated that the building facilities of the institution should be developed and greater attention should be made to producing income through activities fit for the institution because the commercial value of the property where the Sinhala Cultural Institute is located is quite high. He also stated that if any financial provision is required for this purpose, the necessary arrangements can be made to provide it through the Ministry of Cultural Affairs.
The President also pointed out that currently the membership of the Sinhala Cultural Institute is around 300, and by further expanding the membership, new ideas could be obtained by providing opportunities to the educated youth.
Secretary to the President Mr Saman Ekanayake, Secretary to the Buddhashasana, Religious, and Cultural Affairs Ministry Mr Somaratne Vidanapathirana, former Chairman of the Sinhala Cultural Institute Mr Jeevan Kumaratunga and senior officials of Sinhala Cultural Institute were present at this discussion.