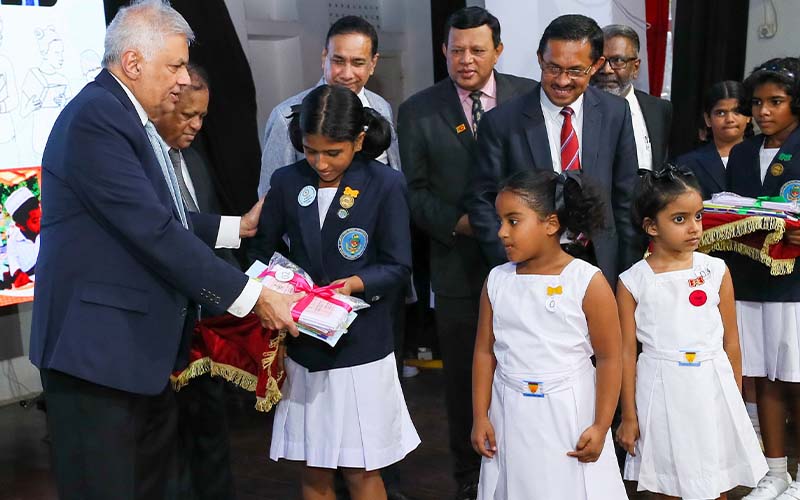 Published on: March 23, 2023
The President emphasizes that students will not be allowed to be held hostage by different groups
A Bill to make schools an essential service will be submitted to Parliament if the issues are not resolved quickly
President Ranil Wickremesinghe emphasized that he will not allow the school children of Sri Lanka to be held hostage by various groups.
The President said that he believes that the problems in the education sector can be resolved quickly through discussions; failing which he will have to submit a Bill to Parliament to make schools an essential service.
The President made this statement during the National Ceremony where free textbooks and uniforms were distributed to students and student monks, by the Ministry of Education which was held at Sanghamitta Balika Vidyalaya in Colombo this morning (23).
In this event organized by the Ministry of Education, the President symbolically awarded textbooks and uniforms to 40 student monks, sil mātā and students.
Education Minister Dr. Susil Premajayantha,, Acting Education Secretary Hemantha Premathilaka and Principal of Sanghamitta Balika Vidyalaya Thushari De Silva also presented a commemorative gift to President Ranil Wickremesinghe.
70% of the school uniforms related to the year 2023 have been received as a grant from the Chinese Government and all of them have been distributed throughout the islands by now. The rest of the uniforms are provided by local businesses. School textbooks printed by the Department of Government Printing and local suppliers using raw materials obtained with Indian assistance were officially distributed here.
These uniforms and textbooks are provided to students of Government schools and Government-aided schools and student monks who are studying in Pirivenas.
Minister of Education Dr. Susil Premajayantha, State Minister of Piriven Education Vijitha Berugoda, State Minister of Education Arvindh Kumar, State Minister of Higher Education Suren Raghavan, Governor of the Western Province Marshal of the Air Force Roshan Gunathilake, Member of Parliament Yadamini Gunawardena, Secretary of the Western Province Pradeep Yasaratne, Acting Secretary of the Ministry of Education Hemantha Premathilaka, Commissioner of Education – Publications Mr. Z. Thajudeen and officials of the Education and Line Ministries, Principals and Teachers of numerous schools took part in this event.