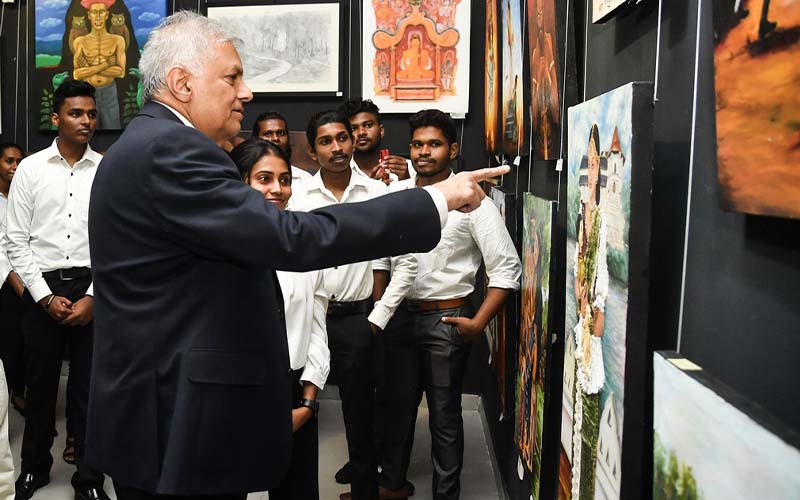 Published on: February 10, 2023
The President attends the "Art of Sri Lanka" art exhibition
President Ranil Wickremesinghe attended the "Art of Sri Lanka" art exhibition on yesterday (09), in line with the country's 75th National Independence Celebrations.
The "Art of Sri Lanka" art exhibition organized on the instructions of President Wickremesinghe was inaugurated on the Independence Day (04) under the patronage of Mr. Poj Harnpol, the Thai Ambassador to Sri Lanka.
The art exhibition, which highlights the pride of Sri Lanka, was put together by veteran artist H. S. Sarath and featured contributions from new and talented artists. A large number of painters of all ages from around the country submitted their paintings for this exhibition, including those involved in the 'Aragalaya'.
During his visit, President Wickremesinghe inquired about the artists who participated in the exhibition and was presented with several paintings, including a portrait of him. The artists requested that the President organize similar exhibitions at least once every three years and aim to target the tourism industry.
The "Art of Sri Lanka" art exhibition will be held from 10.00 am to 5.00 pm today (10th) at the JDA Perera Gallery at the University of the Visual and Performing Arts in Colombo 7.
The exhibition is a celebration of the country's independence and the rich artistic heritage of Sri Lanka, and highlights the importance of supporting artists and preserving the country's cultural heritage.