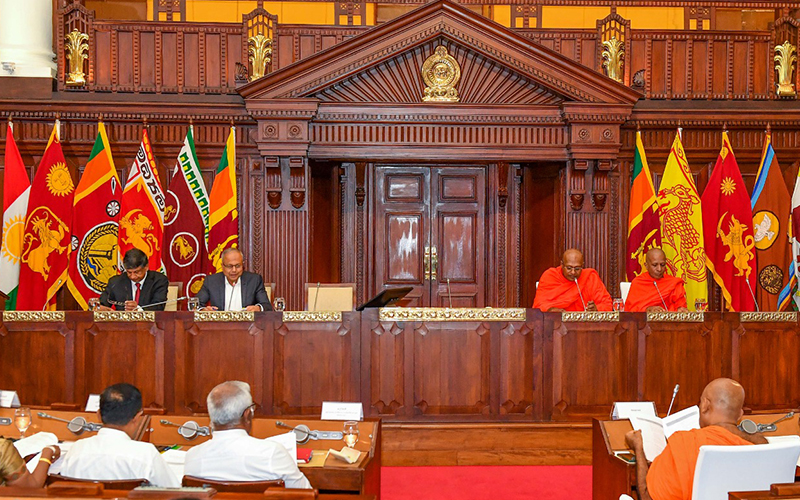 Published on: September 17, 2023
The 08th South China Sea Buddhist Shenzhen Round Table Discussion to be held in Sri Lanka from 24 to 26 October
The 08th South China Sea Buddhist Shenzhen Roundtable is scheduled to take place in Sri Lanka from October 24 to 26th . This event will be hosted by the Hunupitiya Gangarama Temple in Colombo. The opening ceremony, chaired by President Ranil Wickremesinghe, will be held on October 24 at the Bandaranaike International Conference Hall in Colombo.
A preliminary discussion regarding the organizational aspects of this Buddhist roundtable was conducted at the President's Office. Mr. Sagala Ratnayaka, Senior Advisor to the President on National Security and Chief of the Presidential Staff, presided over this session.
The Buddhist Shenzhen Round Table in the South China Sea region has been organized by the Hongfa Temple in Shenzhen, China, since 2016. It serves as an annual international platform for discourse, emphasizing the theme of "Walk Together in Harmony and Gather the Wisdom of the Silk Road." Notably, this year's event will be hosted in Sri Lanka, with the participation of representatives from 22 countries, focusing on the Silk Road theme.
During the discussion, the potential roles of relevant government institutions in ensuring the success of this conference were also deliberated upon. Participants included the Minister of Buddhasasana, Religious and Cultural Affairs Mr. Vidura Wickramanayake, President's Secretary Mr. Saman Ekanayake, the Secretary of the Minister of Buddhasasana, Religious and Cultural Affairs, as well as officials from relevant government departments and organizations.