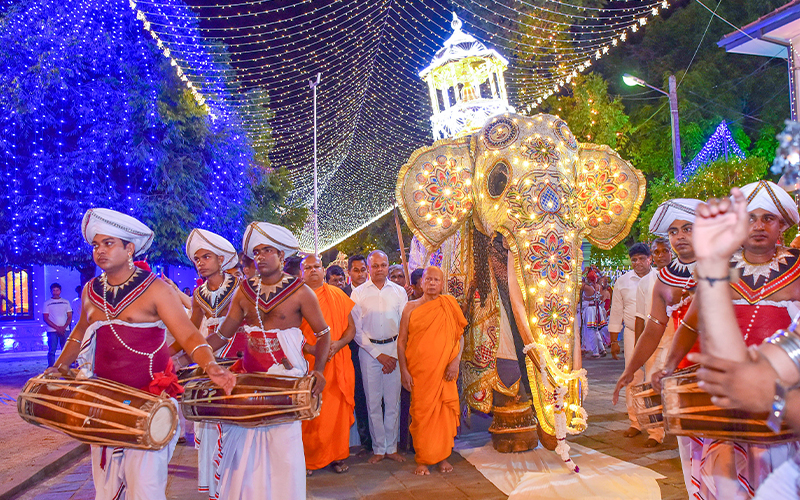 Published on: August 19, 2023
Sagala Ratnayaka joins the historic Bellanwila Raja Maha Vihara religious ceremonies
President's Senior Adviser on National Security and Chief of Presidential Staff, Mr. Sagala Ratnayaka, joined in the revered religious observances at the annual Esala Perahara festival of the historic Bellanwila Raja Maha Viharaya which took place yesterday afternoon (18), where Mr. Ratnayake participated in religious rituals and sought blessings.
During his visit, Mr. Sagala Ratnayaka engaged in a brief conversation with Dr. Venerable Bellanwila Dhammarathana Nayaka Thero, the Chief Incumbent of Bellanwila Rajamaha Viharaya. Venerable Atapatthukande Ananda Nayaka Thero, the Chief Incumbent of the Havelock City Peace Temple in Colombo, was also present on the occasion.
As a noteworthy highlight, Mr. Ratnayake assumed the honourable responsibility of placing the sacred casket on the majestic elephant to initiate the 'Ran Sivili Perahara' of the 73rd Bellanwila Annual Esala Perehara Festival, which took place last night.
This year's Bellanwila Esala Perahara, which commenced on July 29, is set to conclude with the final Randoli Perahara, taking place on the streets today and culminating tomorrow.
Distinguished attendees at this occasion included Members of Parliament Gamini Lokage, former Member of Parliament, former Deputy Mayor of Dehiwala -Mount Lavinia Kesaralal Gunasekara, and former Mayor of Boralasgamuwa Aruna Priyashantha, along with other esteemed public representatives.