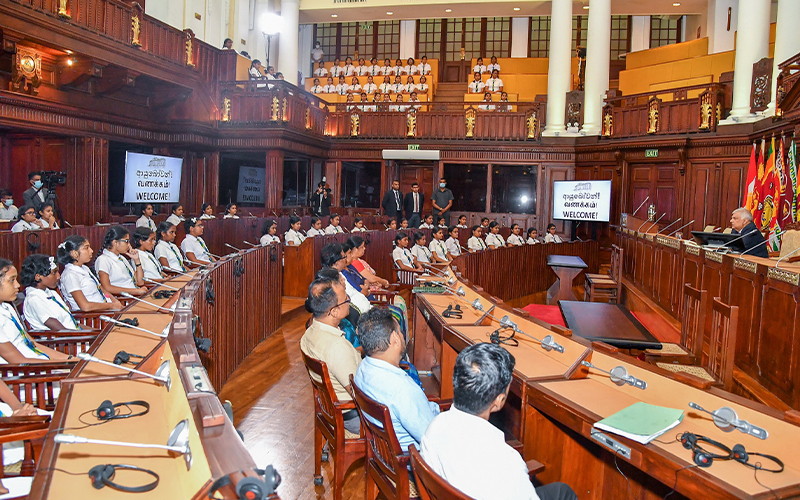 Published on: August 8, 2023
Reformative changes are being made to increase the representation of women in politics – President Ranil Wickremesinghe
During a meeting with students from Girls' High School Kandy, President Ranil Wickremesinghe expressed his strong commitment to increasing women's representation in politics through reformative changes.
The President highlighted his dedication to achieving a significant level of women's participation in politics and emphasized the need for specific reforms to facilitate this objective. The President made these remarks today (08) in response to a question raised by one of the visiting students from Girls' High School Kandy, representing the Student Parliament.
As part of their tour, over 100 female students visited various governmental institutions, including the Sri Lankan Parliament, Colombo's port city, the President's House, and the Presidential Secretariat. The students also had the opportunity to engage in a friendly meeting with the President at the main auditorium of the Presidential Secretariat.
During the meeting, President Ranil Wickremesinghe provided the students with valuable insights into the history, structure, and pivotal role of the Presidential Secretariat as the primary decision-making institution in the country's governance. The President also addressed questions raised by the students.
President Wickremesinghe also emphasized the importance of providing students studying arts subjects with opportunities to explore other fields such as science and mathematics for higher education. He believes that such interdisciplinary learning will enable them to contribute effectively to the future development of Sri Lanka, with a vision towards becoming a developed nation by 2048.
This visit by Girls' High School Kandy students marked the initial phase of a program initiated to open the Presidential Secretariat to school children. During their visit, the students had the chance to acquire new skills and gain valuable experiences.