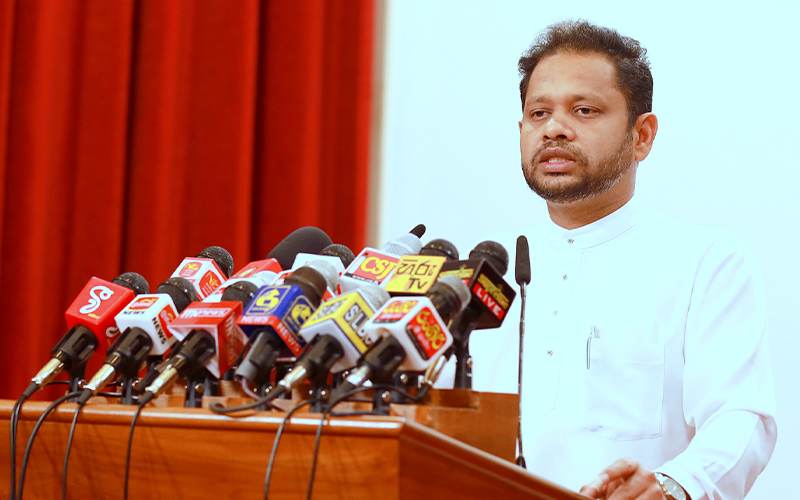 Published on: November 16, 2023
President's aspiration to create an environment conducive to a high quality of life for all – State Minister of Home Affairs, Ashoka Priyantha
In a press briefing held at the Presidential Media Centre (PMC) today (16), under the theme 'Collective path to a stable country', State Minister of Home Affairs, Mr. Ashoka Priyantha, highlighted the overarching vision of President Ranil Wickremesinghe. The President's primary goal is to foster an environment where every citizen can enjoy an enhanced quality of life through meticulous control of commodity prices and a concerted effort to increase production.
Addressing the impact of rising commodity prices, State Minister Priyantha emphasized the broad-ranging consequences affecting not only government employees but the entire public. He assured that relief measures are anticipated in the first quarter of the upcoming year.
Reflecting on the discussions surrounding the recently presented 2024 budget by President Ranil Wickremesinghe, State Minister Priyantha drew attention to the specific challenges faced by public servants, including concerns about salaries and the difficulties associated with inflation. The issue cannot be resolved solely by increasing wages.
As a government, it should be sensitive to the pressure people are under. Accordingly, the President and the Cabinet paid special attention to the matter and increased the salaries of government employees by Rs. 10,000 and enhancements to various social welfare benefits, particularly those benefiting retirees. Notably, efforts have been directed towards expediting pension processing times, with plans to reduce the duration from three months to a more efficient one or two weeks.
President Ranil Wickremesinghe's overarching objective, as outlined in the 2024 budget, is to effectively manage commodity prices and stimulate increased production, ultimately cultivating an environment conducive to an improved quality of life for all citizens. The State Minister expressed optimism about a favourable economic situation in the first quarter of the upcoming year in line with the budgetary provisions.
Furthermore, he highlighted key aspects of the current year's budget, including a focus on educational reforms, establishment of new universities and the rehabilitation of deteriorating infrastructure such as roads. Adequate financial provisions have been allocated to support these initiatives, forming the essential foundation for the country's economic development. The State Minister appealed for the collective support of the public in realizing these transformative measures.