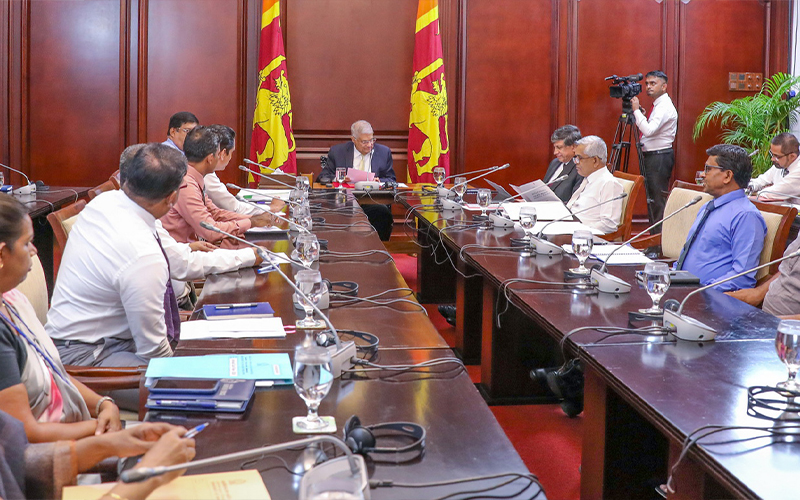 Published on: October 13, 2023
President Wickremesinghe and FUTA discuss research allowance increase and University system restructure
President urges collaborative efforts, sets 3-week deadline to tackle faculty concerns.
President Wickremesinghe convened a meeting with Federation of University Teachers' Association (FUTA) members today (13) at the Presidential Secretariat. The primary focus of this meeting was to address the pressing issue of increasing research allowances for university lecturers and seeking exemption from taxation upon earning this allowance. Additionally, key issues concerning the future of Sri Lanka's university system were discussed.
The President also acknowledged the challenging economic conditions faced by the nation and affirmed the government's commitment to promptly address these issues, providing relief to the public. Recognizing that the current allowances were insufficient to support the research efforts of the teaching staff, he stressed the importance of revising these allowances to promote quality research within Sri Lanka's higher education institutions. The President encouraged officials to explore the feasibility of issuing a new circular that would exempt the allowance from existing tax policies if necessary to rectify the situation.
President Wickremesinghe urged FUTA members to collaborate with the Education Ministry and the Attorney General's office to find viable solutions and requested a comprehensive report within a three-week timeframe.
Furthermore, President Wickremesinghe revealed the government's intention to conduct a thorough study regarding the potential abolition of the University Grants Commission (UGC) and a comprehensive restructuring of the entire university system in Sri Lanka, aligning it with models employed by reputable international institutions such as Deakin University and the University of California systems to enhance the quality of higher education.
This move is expected to bring about substantial changes and improvements in Sri Lanka's university system, promising a more competitive and globally recognized educational framework. The President's willingness to explore all available options was met with appreciation by FUTA representatives.
The distinguished gathering included President's Secretary Saman Ekanayake, President's Senior Adviser on Economic Affairs R.H.S. Samaratunga, Former Minister Ravi Karunanayake, President of the University Teachers' Association Prof. Barana Jayawardana, Secretary of the Association Dr. Athulasiri Samarakoon and other prominent members.