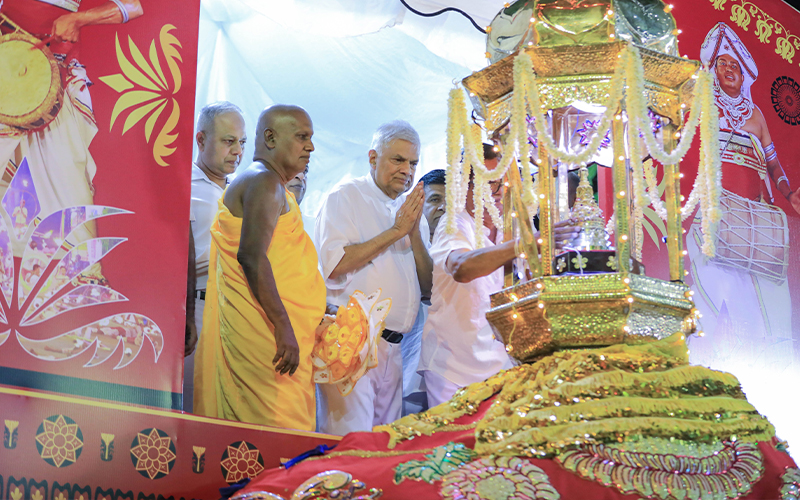 Published on: September 10, 2023
President Ranil Wickremesinghe witnessed the culmination of the Annual Sri Dalada traditional rituals during the Final Procession at the Raja Maha Viharaya in Kotte
President Wickremesinghe actively participated in the revered religious observances during the final procession of the annual Sri Dalada traditional rituals at the historic Raja Maha Viharaya in Sri Jayewardenepura Kotte, which took place yesterday afternoon (18). During this solemn occasion, the President engaged in religious rituals and sought blessings.
Before attending the event, President Wickremesinghe visited the historic Sri Jayewardenepura Kotte Rajamaha Viharaya in the evening. He had a brief conversation with Chief Incumbent of the Kotte Raja Maha Viharaya Ven. Aluthnuwara Anuruddha Thera. The event also saw the presence of Venerable Thalangama Devananda Thera, Chief Incumbent of Lankaramaya in Los Angeles, Buddhist Vihara in Indiana, USA and Kotte Rajamaha Viharaya.
Following the performance of religious rites and receiving blessings, President Ranil Wickremesinghe inaugurated the final grand procession by placing the sacred casket on the majestic elephant known as 'Kotte Raja.'
Notably, the event was attended by prominent figures, including Minister of Justice Dr. Wijedasa Rajapaksa, Senior Advisor to the President on National Security and Chief of Presidential Staff Sagala Rathnayake and former Minister Ravi Karunanayake.