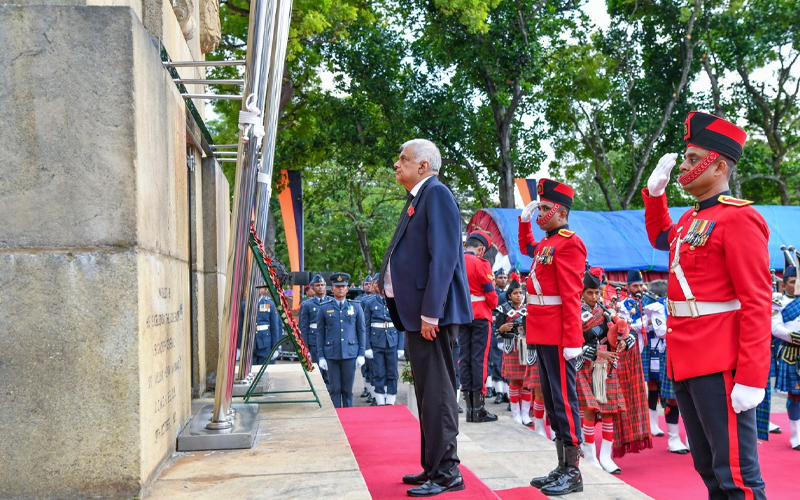 Published on: November 11, 2023
President Presides Over Armed Forces Remembrance Day Ceremony and Poppy Celebration
Observance of Armed Forces Remembrance Day 2023, a significant event hosted annually by the Sri Lanka Ex-Servicemen's Association in collaboration with the Armed Services to pay tribute to the valiant soldiers who bravely sacrificed their lives for the nation's security from the First World War to the present day was held today (11). The dedication ceremony of the Ranaviru Memorial at Vihara Mahadevi Park in Colombo took place this afternoon, presided over by the Commander-in-Chief, President Ranil Wickremesinghe.
The ceremony marked not only the annual commemoration but also the celebration of the centenary since the construction of the Cenotaph at Vihara Mahadevi Park, Colombo. President Ranil Wickremesinghe, upon arrival at the ceremony site, was warmly welcomed by Major General Upul Perera (retired), President of the Sri Lanka Ex-Servicemen's Association.
Following various religious ceremonies, the tribute to the war heroes commenced. A moment of silence was observed to honour the martyred war heroes and the President, along with representatives of the Ex-Servicemen's Association, laid floral tributes at the war memorial.
President Ranil Wickremesinghe also unveiled the special centenary commemorative plaque of the War Heroes Memorial. During the ceremony, Mr. Shanta Bandara, Minister of State for Media and Mr. Ruwan Satkumara, Postmaster General, presented the President with the special commemorative stamp and first-day cover released on the occasion of the 100th anniversary of the Cenotaph.
Major General Upul Perera, President of the Ex-Servicemen's Association, presented the book titled "War Memorials in Sri Lanka," compiled by Retired Navy Petty Officer K. Nihal, to the President. The ceremony was attended by various dignitaries, including Minister of State for Defence Pramita Bandara Tennakoon, Minister of State for Media Shantha Bandara, Presidential Senior Adviser on National Security and Chief of Presidential Staff Sagala Ratnayaka, Western Province Governor Marshal of the Air Roshan Gunatillake, Defence Secretary General Kamal Gunaratne (Retired) Chief of Defence Staff General Shavendra Silva, Army Commander Lt. Gen. Vikum Liyanage, Navy Chief of Staff Rear Admiral Jayantha Kularatne, Air Force Chief of Staff Air Vice Marshal Sampath Wickramaratne, Admiral of the Fleet Wasantha Karnnagoda and senior officers of the Sri Lanka Ex-Servicemen's Association. Additionally, Mrs. Lilly Kobbekaduwa, the wife of Brigadier Denzil Kobbekaduwa, and relatives of the deceased armed forces members were present at the event.