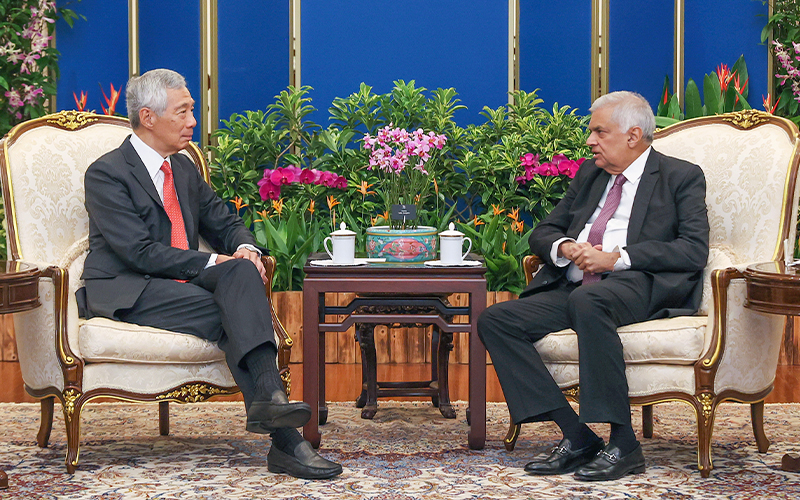 Published on: August 22, 2023
President meets Singapore's Prime Minister& Strategize on Strengthening Bilateral Collaboration
Sri Lanka and Singapore Forge Historic Partnership with Carbon Credits MoU.
President Ranil Wickremesinghe engaged in discussions with Singapore's Prime Minister Lee Hsien Loong earlier today. The focal point of these discussions was the reinforcement of collaborative efforts between the two nations. The leaders emphasized the importance of sustained cooperation and explored avenues for increased economic involvement.
In the aftermath of this significant meeting, a pivotal step was taken to solidify the partnership between the governments of Sri Lanka and Singapore. A Memorandum of Understanding (MoU) was successfully inked, centring around the joint venture on carbon credits. This landmark collaboration falls under Article 6 of the Paris Agreement, a pivotal framework for global environmental stewardship.
Meanwhile, the historic MoU was signed by Ms Sashikala Premawardhane, High Commissioner of Sri Lanka to Singapore and Mr. Beh Swan Gin, Permanent Secretary (Development), Ministry of Trade and Industry, in the presence of President Wickremesinghe and Prime Minister Lee.
Notable figures accompanying President Wickremesinghe included Chief-of-Staff and National Security Advisor Sagala Ratnayaka, Senior Advisor on Climate Change Ruwan Wijewardena, and Senior Advisor on Economic Stabilisation Dr. R.H. Samaratunga. This assembly of key individuals underscores the seriousness and significance of this agreement.
This strategic partnership not only showcases the commitment of both nations to environmental responsibility but also sets the stage for further collaboration in various sectors, paving the way for a prosperous and sustainable future.