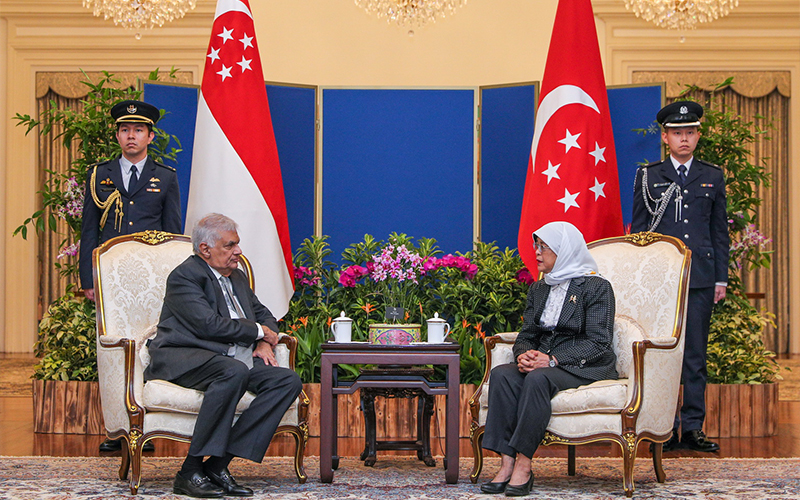 Published on: August 21, 2023
President meets Singapore's President and Defence Minister during his official visit
President Ranil Wickremesinghe met the President of Singapore Ms. Halimah Yacob at the Istana earlier today. The Singapore President said in a note on her official Facebook page that the two leaders had fruitful discussions, covering food security, renewable energy, and regional economic cooperation, amongst others.
"Our friendship is anchored by strong people-to-people ties and cooperation across various sectors. There is much scope to deepen our ties. I wish President Wickremesinghe a productive visit in Singapore," she noted in her post.
Meanwhile, in a significant step towards reinforcing bilateral ties, Singapore's Minister for Defence, Dr. Ng Eng Hen, called on President Ranil Wickremesinghe today during President Wickremesinghe's two-day official visit to Singapore.
The meeting focused on amplifying security and defence collaboration between the two nations.
The discussions between Minister Ng Eng Hen and President Wickremesinghe underscored the paramount importance of strengthening security partnerships in the South Asian region.
Singapore's Defence Minister Dr. Ng Eng Hen and President Wickremesinghe highlighted the necessity for consistent communication and coordination to effectively address common security concerns.
Both nations are set to harness their respective strengths to create a synergistic partnership that enhances the security landscape in the region.
President Wickremesinghe also met the Minister for Sustainability and Environment of Singapore Ms Grace FU Hai Yien.