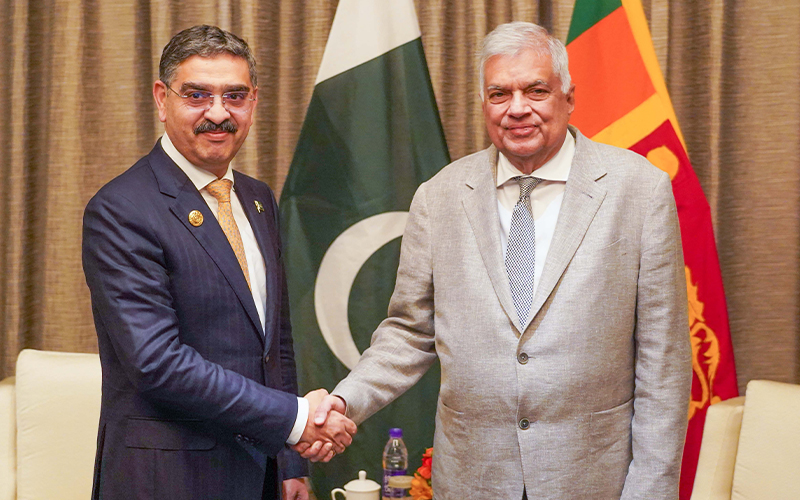 Published on: October 17, 2023
President meets Pakistani Prime Minister Anwar-ul-Haq Kakar in Beijing
President Ranil Wickremesinghe and Pakistan Prime Minister Anwaar-ul-Haq Kakar engaged in bilateral discussions in Beijing this afternoon (17). This meeting took place on the side-lines of the 'One Belt – One Road' international conference in China.
During their meeting, both leaders emphasized the global imperative of cultivating a harmonious society free from animosity, prejudice and anger arising from racial, religious or ethnic differences. They stressed the paramount importance of addressing the challenge of fostering a unified society based on shared humanity, where divisions driven by race, religion or ethnicity give way to unity and mutual understanding.
Subsequently, President Ranil Wickremesinghe and Prime Minister Anwaar-ul-Haq Kakar engaged in an extensive discourse concerning the economic crises that affected both Pakistan and Sri Lanka, with a particular focus on strategies for recovery.
Moreover, the leaders deliberated on the critical developments unfolding in the Gaza Strip. In this regard, a consensus was reached to issue a joint statement, reflecting their common stance on the matter.
This pivotal meeting was further enriched by the presence of distinguished delegates, including Pakistan's Finance Minister, Shamshad Akhtar and Sri Lanka's Foreign Minister, Ali Sabry.