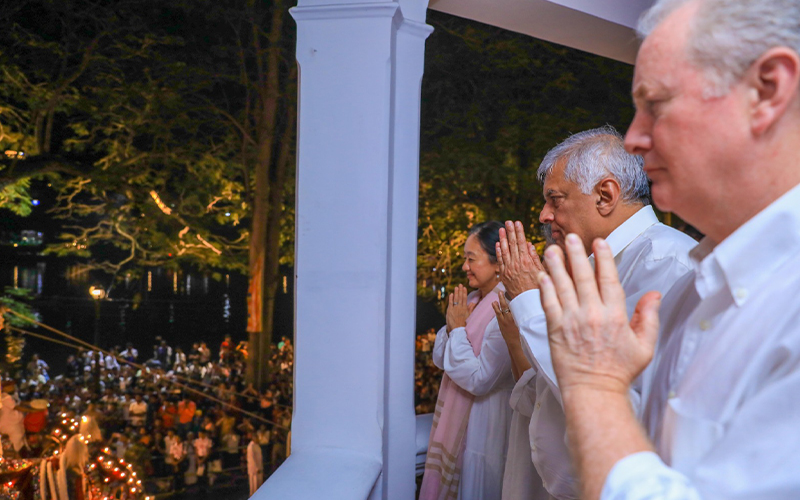 Published on: August 30, 2023
President joins spectators to witness final Randoli Esala Perahara
In a profound display of reverence for Sri Lanka's rich cultural heritage, President Ranil Wickremesinghe graced the concluding Randoli Perahara of the esteemed Esala Perahara festival, held at the iconic Sri Dalada Maligawa in Kandy.
The auspicious occasion witnessed an international touch as well, with the distinguished presence of US Senator Mr. Chris Van Hollen, who is on a visit to the country.
President Wickremesinghe was accompanied by Professor Maithri Wickramasingha, Ministers Mr. Wijayadasa Rajapakse, Mr. Susil Premajayath, President's Senior Adviser on National Security, and President's Chief of Staff Mr. Sagala Ratnayake and American Ambassador to Sri Lanka Ms. Julie Chung.
At the stroke of 7:03 pm, today (30), the enchanting Esala Perehara commenced its majestic journey, traversing through the heart of Kandy's historic streets. The procession followed an enchanting route along Dalada Widiya, Yatinuvara Widiya, Kande Widiya, D S Senanayake Widiya, and culminated by passing through Raja Widiya.
An immense gathering assembled along both sides of the Perehara route, eagerly awaiting the spectacle of the culminating Randoli Perehara, a pivotal event within the storied Esala Perehara festival's rich history.