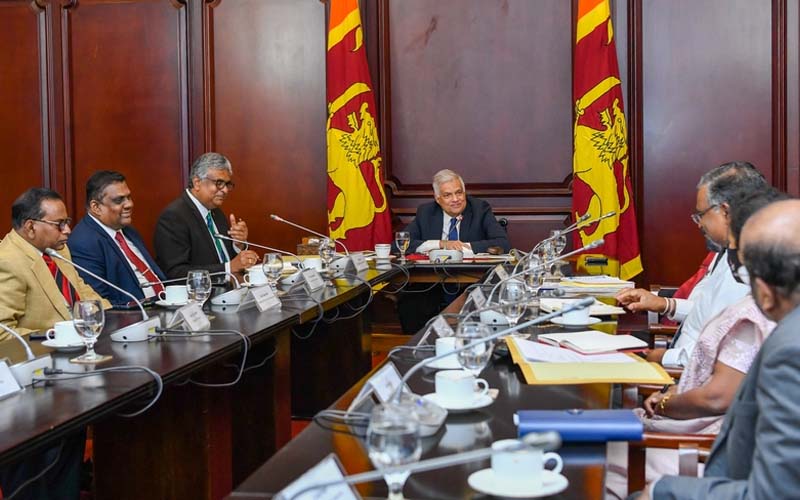 Published on: January 20, 2023
President instructs the implementation of a youth-led development plan for the country
In conjunction with the 75th Independence Day, under the theme, 'National Youth Platform', President Ranil Wickremesinghe has instructed to implement a youth-led development project covering the entire island to make Sri Lanka a developed country by the 100th Independence Celebration (2048) through youth ideas, skills and interventions.
A discussion regarding this program was held yesterday (19) at the Presidential Secretariat under the patronage of the President. During this discussion, the plans related to the development of the major cities in each district as tourist cities formulated by the lecturers and students of all the universities were presented to the President.
Accordingly, the Jaffna and Vavuniya University, focusing on the Jaffna district and the Kelaniya University and Rajarata University presented tourism plans related to the Anuradhapura district.
The Ruhuna University, Sabaragamuwa University and Sir John Kotelawala Defence University jointly submitted plans for the Galle districts and the Colombo University, Sri Jayawardenepura University, University of Fine Arts and the Moratuwa University jointly submitted their plans for the Colombo district.
Peradeniya, Wayamba and Uva Wellassa Universities jointly presented the plans related to the Kandy district while the Eastern and South Eastern Universities presented the plans for the Batticaloa district.
Expressing his appreciation for all the plans that were submitted, the President said that private-sector financial assistance could also be sought to support this program.
Pointing out that it is a very good trend for the university community to contribute to the development of the country, Mr Ranil Wickremesinghe appreciated the university community's involvement in these projects and commended their contribution.
Senior Advisor to the President on National Security and Chief of Staff to the President Sagala Ratnayake, Secretary to the President Saman Ekanayake, Chairman of the University Grants Commission Dr Sampath Amaratunga, Secretary to the Ministry of Finance Mahinda Siriwardena, University Vice Chancellors and officers of line institutions joined this discussion through online technology.