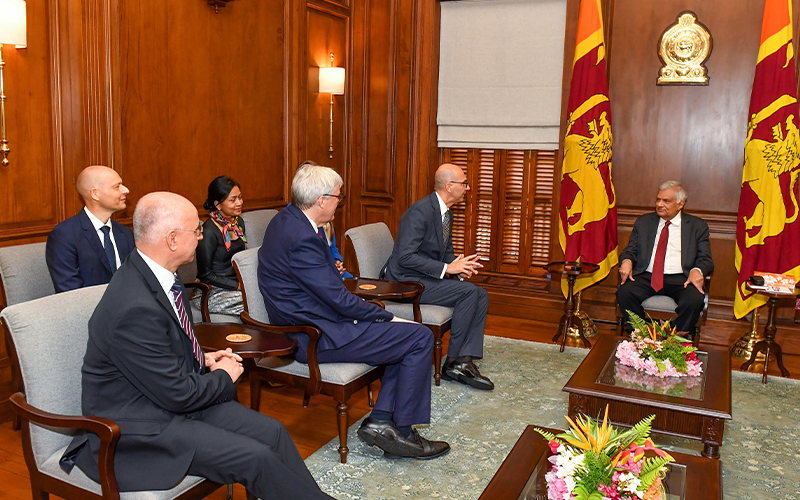 Published on: August 23, 2023
Newly Appointed Diplomatic Envoys Present Credentials to President Wickremesinghe
In a formal ceremony held at the Presidential Secretariat today (23), two newly appointed Ambassadors and a High Commissioner to Sri Lanka presented their credentials to President Ranil Wickremesinghe.
The appointments of two distinguished Ambassadors for the Republic of Italy and the Federal Republic of Germany, along with the designation of a new High Commissioner for the United Kingdom of Great Britain and Northern Ireland, assumed their roles as representatives of their respective countries and had the honour of formally introducing themselves to President Wickremesinghe.
The ceremony was attended by Mr. Sagala Ratnayake, Senior Advisor to the President on National Security and Chief of Presidential Staff, who warmly received the envoys upon their arrival.
The following is a list of the diplomats who formally presented their credentials:
Mr. Damiano Francovigh: Ambassador of the Republic of Italy in Colombo.
Mr. Andrew Patrick: High Commissioner of the United Kingdom of Great Britain & Northern Ireland.
Dr. Felix Neumann: Ambassador of the Federal Republic of Germany.
After the presentation of their credentials, President Wickremesinghe engaged in a friendly exchange with the newly appointed diplomats, reflecting the spirit of mutual respect and cooperation that underpins diplomatic relations.
Among those present during this significant event were State Minister of Foreign Affairs, Mr Tharaka Balasooriya, Secretary to the President, Mr Saman Ekanayake, and Secretary to the Ministry of Foreign Affairs, Ms. Aruni Wijewardena.