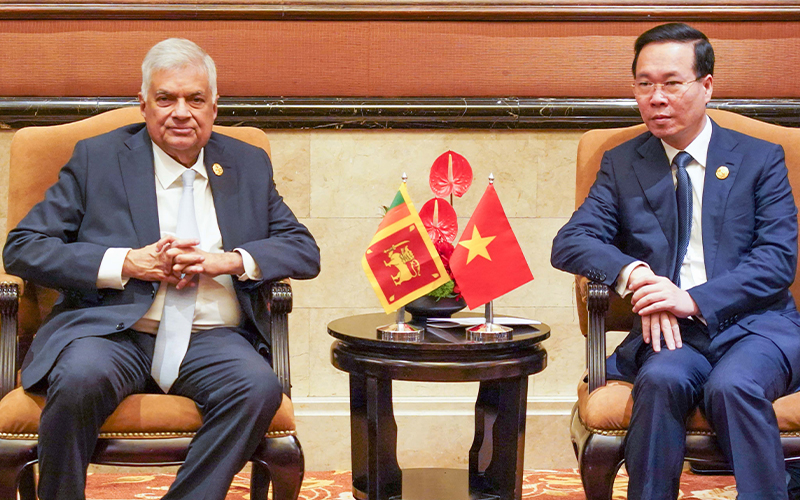 Published on: October 18, 2023
Leaders of Vietnam and Sri Lanka hold bilateral discussions
Vietnamese President expresses commitment to taking the lead in enhancing cultural ties between the two countries.
Vietnamese President Vo Van Thuong expressed Vietnam's willingness to serve as a bridge for enhancing relations between Southeast Asia and Sri Lanka.
He emphasized that Vietnam is committed to taking the initiative in strengthening economic, social and cultural ties between Sri Lanka and Vietnam.
President Ranil Wickremesinghe engaged in bilateral talks with President Vo Van Thuong during the "Belt and Road Initiative" (BRI) international forum in Beijing today (18).
During the meeting, President Vo Van Thuong underlined this commitment in strengthening ties between the two countries. The discussions between the leaders covered various critical issues impacting both nations.
To bolster the relationship between Sri Lanka and Vietnam, it was agreed to formulate a comprehensive action plan, with the foreign ministers of both countries taking the lead.
Dr. Nandalal Weerasinghe, the Governor of the Central Bank, provided insights into Sri Lanka's current economic situation and future prospects. The Vietnamese President also shared Vietnam's experiences in rebuilding its own economy and the challenges encountered during the process.
The leaders engaged in extensive discussions on establishing economic and trade links between the two nations, as well as Sri Lanka's agricultural modernization program. This dialogue was underscored as a fresh approach to charting a path forward together.
The event was attended by Foreign Minister Mr Ali Sabry, the President's Senior Adviser on National Security and President's Chief of Staff Mr Sagala Ratnayaka and the Sri Lankan delegation.