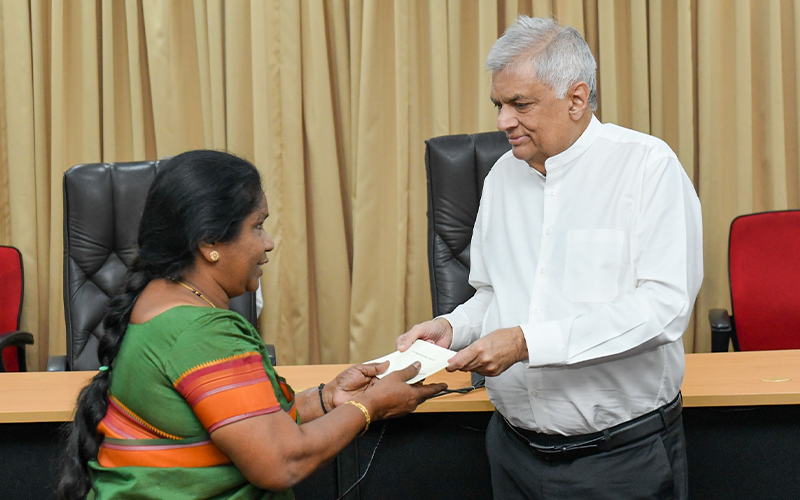 Published on: February 11, 2023
Land deeds distributed among 197 families in the North Resettlement allowances awarded under the President's patronage
President Ranil Wickremesinghe presided over a ceremony at the Jaffna District Secretariat to award land deeds and financial compensation to 197 families who were displaced in the North along with cheques to the value of Rs. 38,000 each. The lands were freed as part of a program to return the lands used by the security forces during the civil war to the original residents, as per the instructions of the President.
During the ceremony held today (11), President Wickremesinghe symbolically awarded land deeds and financial compensation checks to several recipients, who expressed their gratitude for being given back their lands after 33 years of displacement. The President was joined by Fisheries Minister Douglas Devananda, the President's Senior Adviser on National Security and Chief of Presidential Staff Sagala Ratnayake, Secretary to the President Saman Ekanayake, President's Coordinating Secretary to the Northern Province M. Ilangovan, former Parliamentarian Vijayakala Maheswaran, and other dignitaries.
The resettlement program and the awarding of land deeds and compensation to these families is a significant step towards helping them start a new life and rebuild their homes. The support of the government and the presence of dignitaries at the event highlights the importance placed on this resettlement program and its positive impact on the lives of these families.