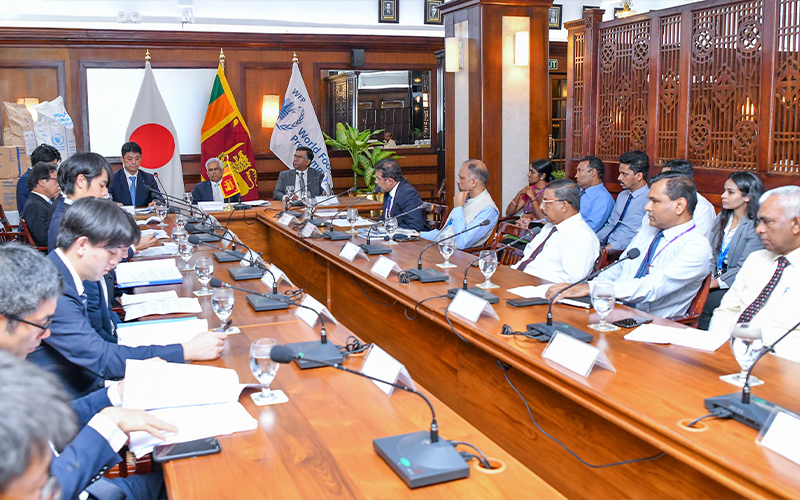 Published on: October 10, 2023
Japan hands over grant to Sri Lanka under United Nations World Food Program at the Presidential Secretariat
The official transfer of grants from the Government of Japan to Sri Lanka through the United Nations World Food Program for various critical initiatives took place today (10) at the Presidential Secretariat. Mr. Komura Masahiro, the Deputy Minister of Foreign Affairs of Japan, and Mr. Mitsukoshi Hideki, the Japanese Ambassador to Sri Lanka, graced the event. Dr. R.H.S. Samaratunga the President's Senior Adviser on Economic Affairs, along with other Sri Lankan officials, also participated.
During his speech, Deputy Minister Mr. Komura Masahiro expressed his delight in supporting Sri Lanka during its recent economic crisis. He emphasized Japan's commitment to remaining a steadfast friend and partner to Sri Lanka.
Dr. R.H.S. Samaratunga the President's Senior Adviser on Economic Affairs, extended his gratitude to the Japanese government for their assistance. Sri Lanka's government has been taking steps to mitigate the impact of economic difficulties on vulnerable families. The Emergency Response Program (ERP), School Meal Program (SMP) and National Social Security Program have been key initiatives in this regard.
Furthermore, Mr. Samaratunga highlighted the 70-year diplomatic relationship between Japan and Sri Lanka, noting Japan's consistent support. Under the World Food Program, Japan has provided food items worth $10 million. Specifically, Japanese aid under the Emergency Response Program (ERP) has been directed to the most economically vulnerable families, benefiting 145,000 households across Sri Lanka.
Mr. Samaratunga also noted that Japan has contributed 7270 metric tons of food items to Sri Lanka. These items have been utilized for the school meal program, benefiting 960,000 schoolchildren, including the provision of red lentils.