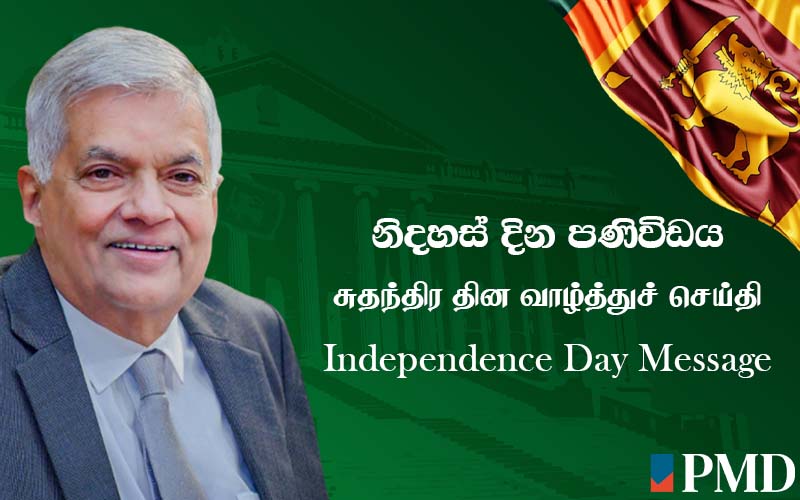 Published on: February 3, 2023
Independence Day Message
Our 75th Anniversary of Independence from colonial rule is being observed during an extremely critical and challenging time in the country. It is, indeed, a decisive moment. However it presents an opportunity for us not only to review our strengths and gains as a nation but also to rectify our errors and failures.
Since 1948, we have, as a nation, undergone many tests and travails – from riots, insurgencies and war to natural disasters. These experiences have left us with a sense of inculcated resilience that has made us revive better when faced with adversity. Therefore, I am confident that even at this juncture we will pool our energies as the daughters and sons of one mother to rise up from the current economic abyss and build back stronger.
There is a new economic and social reform agenda before the country with the objectives focusing first on recovery and then on renewed development. It is imperative for us to unite in its implementation so that we can emerge with a high level of economic prosperity. I pledge today to make the extremely difficult though vital decisions to achieve this goal with courage and determination. I anticipate the confidence and support of you, the people of our country, in this endeavour.
I also take the opportunity to thank you, the Sri Lankan expatriate community, for your contribution towards the development of our motherland despite your distance. I would like to invite you to join us in securing a bright future for the younger generation of Sri Lankans who are at the vanguard of economic and social development. Your faith and investment in the unique and creative ideas of our talented youth who lack capital could give considerable hope and be of immense benefit to our country in this crisis.
On this historic anniversary, let us all resolve to meet the challenges of this year with further patience and fortitude.
I extend warm felicitations to you, Sri Lankans, here and aboard.
Ranil Wickremesinghe
President
Democratic Socialist Republic of Sri Lanka