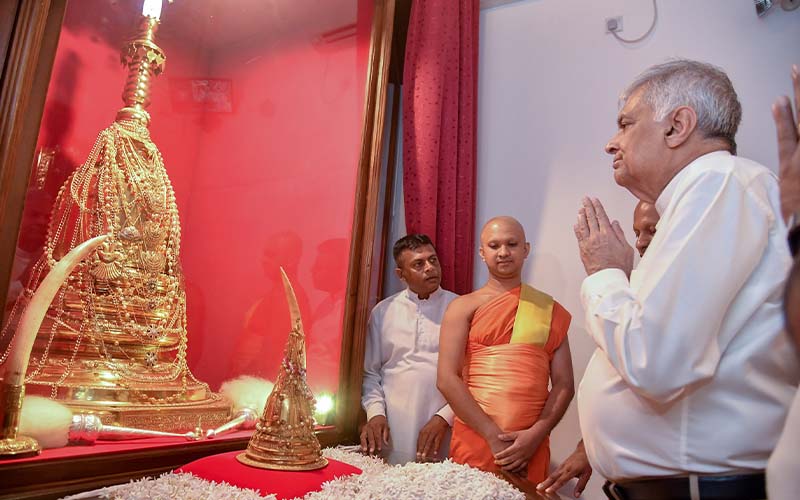 Published on: February 22, 2023
Inauguration of the annual 'Nawam Maha Perahara' at the historic Oloboduwa Rajamaha Viharaya, Horana, held under the patronage of the President
The inauguration of the annual Nawam Maha Perahara at the historic Oloboduwa Rajamaha Viharaya, Horana, took place yesterday (21) afternoon under the patronage of President Ranil Wickremesinghe.
The President was received by Chief Incumbent of the Olaboduwa Raja Maha Viharaya and Director of the Talagala Vipassana meditation centre Venerable Uduwe Hemaloka Nayaka Thera . The President inquired about his well-being and presented offerings.
The President also inquired about the development of the temple and engaged in cordial discussion with the Nayaka Thera.
The President also made a special commemorative note on the occasion of the commencement of the 2023 'Navam Maha Perahara Pinkam' series.
President Ranil Wickremesinghe who arrived at the relic hall, paid homage to the sacred relics and received blessings and the Maha Sangha chanted Seth Pirith and extended their blessings.
A thirty-seven-hour Pirith chanting ceremony was also conducted at the temple in conjunction with the Navam Maha Perahara, invoking blessings on the country and the wellbeing of the people. The president carried the casket containing the sacred relics to the venue and presented beetle to the Maha Sangha inviting them to the 'Pirith Maduwa' to commence the Pirith chanting ceremony.
The President also engaged in friendly conversation with the children of Sri Sumangala Dhamma School and inquired about their educational activities.
The Venerable Viharadhikari of the Historical Oloboduwa Rajamaha Viharaya and Chief Incumbent of the Lankaramaya in Milan, Italy Oloboduwa Dhammika Thero, Venerable Maha Sanga, Members of Parliament Rohitha Abeygunawardena and Sanjiva Edirimanna were present at this occasion.