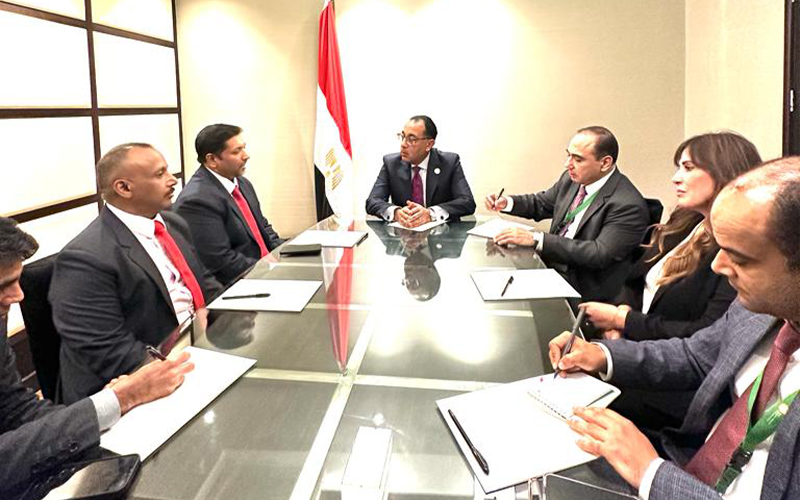 Published on: September 5, 2023
Climate Adviser Ruwan Wijewardena engages in pivotal talks with Egyptian Prime Minister at Africa Climate conference
In a landmark meeting at the Africa Climate Summit 2023, Ruwan Wijewardena, Senior Adviser to the President on Climate Change, engaged in a fruitful discussion with the Egyptian Prime Minister, Mr. Mostafa Madbouly. The meeting underscored the growing importance of international collaboration in addressing the pressing challenges posed by climate change.
Mr. Wijewardena's participation in the summit, at the request of President Ranil Wickremesinghe, signifies Sri Lanka's unwavering commitment to global efforts to combat climate change. The summit, held in Nairobi, Kenya, has drawn international attention as world leaders convene to chart a path toward a more sustainable future.
The meeting between Mr. Wijewardena and Prime Minister Madbouly was marked by in-depth discussions on the potential for strengthened cooperation between Egypt and Sri Lanka in mitigating the effects of climate change. Both leaders expressed their dedication to finding innovative solutions to the environmental challenges that transcend borders.
Furthermore, Mr. Wijewardena took the opportunity to highlight the proactive measures undertaken by the Sri Lankan government to reduce the impact of climate change. These initiatives underscore Sri Lanka's commitment to environmental stewardship and sustainability.
In a bid to expand their partnership, the leaders also explored avenues for enhancing trade relations between Sri Lanka and Egypt. Their discussions exemplified a shared vision of promoting economic growth and development through strategic collaboration.
Adding to the diplomatic significance of the meeting, Sri Lanka's High Commissioner to Kenya, Mr. Kana Kananathan, was present at the event, reinforcing the strong and enduring ties between Sri Lanka and Kenya.