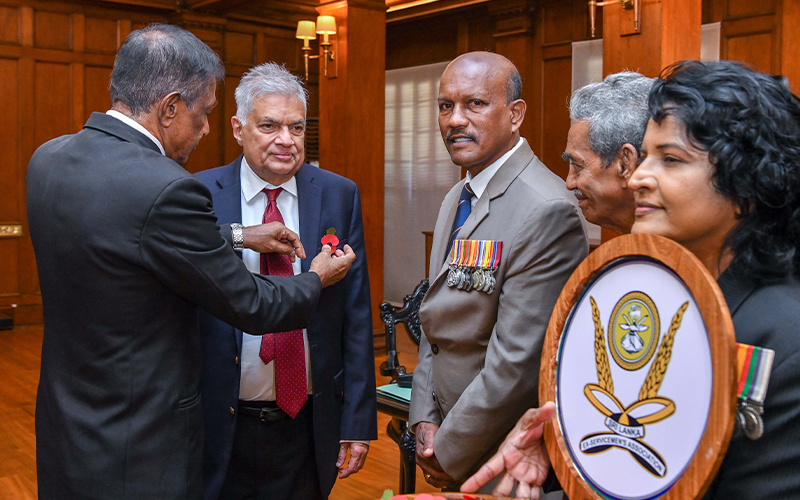 Published on: September 9, 2023
"Ceremonious Poppy Day Commemoration: President Wickremesinghe honoured with first pinned Poppy Flower"
On the occasion of Poppy Day, a significant tribute unfolded as the first poppy flower was ceremoniously pinned onto President Ranil Wickremesinghe this morning (09) at the Presidential Secretariat. The distinguished moment was facilitated by Major General Upul Perera, Chairman of the Sri Lanka Ex-Servicemen's Association.
Annually, the Sri Lanka Ex-Servicemen's Association organizes Poppy Day to honour the memory of war heroes who valiantly sacrificed their lives during the world wars and Sri Lanka's internal conflicts spanning thirty years. "The generated funds from the poppy sales will be dedicated to the welfare of approximately 50,000 members associated with the 44 retired associations of armed forces, all of which are affiliated with the Sri Lanka Servicemen's Association.
Symbolic Poppy Flower tribute extended to Mr. Sagala Ratnayaka, Senior Advisor to the President on National Security and Chief of Presidential Staff.
Notable attendees at the event included Lt. Col. Ajith Siambalapitiya, General Secretary of the Sri Lanka Ex-Servicemen's Association, Major P.K.C. Shantilal Kankanam, Treasurer, Brigadier Hemantha Liyanage, Chairman of Poppy Celebration Committee, and esteemed committee members Major P.H. W.de Silva, Captain T.M.H. Madugalla, K.H.N. Chandi Hettiarachchi, Mr. I.K.A. Rohani, among others.