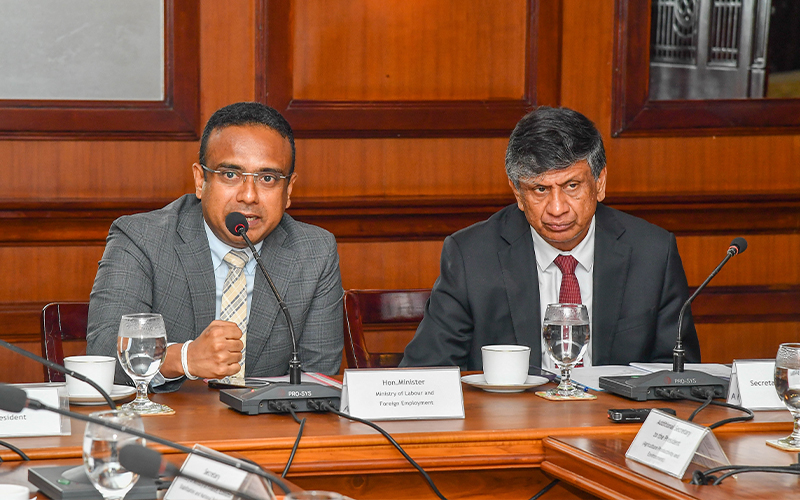 Published on: July 19, 2023
Action Committee formed to re-employ those affected by the economic crisis
In a pivotal meeting held at the Presidential Secretariat, a momentous decision was made under the leadership of Minister of Labour and Foreign Employment, Manusha Nanayakkara, and President's Secretary, Mr. Saman Ekanayake. An action committee comprising key secretaries from various ministries, including Education, Finance, Tourism, Fisheries, Transport, Plantation and Industry, has been appointed to swiftly implement strategies aimed at re-employing individuals impacted by the economic crisis.
This committee follows in the footsteps of a tripartite committee established during Mr Ranil Wickremesinghe's tenure as Prime Minister, which focused on addressing job losses resulting from the economic crisis. Strategies for re-employment were developed, and the Ministry of Labour and Foreign Employment was entrusted with their implementation. The World Labour Organization provided technical support through a comprehensive survey, culminating in a final report presented to the Ministry.
The tripartite committee engaged in extensive discussions, formulating long-term, medium-term, and short-term solutions. The newly appointed action committee assumes responsibility for the implementation of these solutions. Future endeavours will prioritize identifying areas with increased job opportunities and implementing qualification development programs to connect individuals with these prospects.
By leveraging collective expertise and collaboration across ministries, this action committee aspires to swiftly create job opportunities and pave the way for personal and economic growth. Together, we shall navigate the challenges of the economic crisis, providing renewed hope and empowering individuals with the means to build a brighter future.