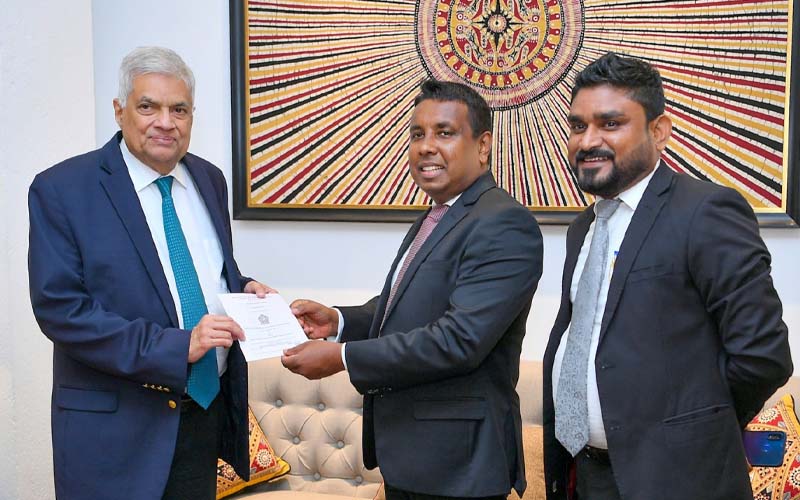 Published on: November 1, 2022
A proposal from MP Dolawatta to strengthen President's policy on youth involvement in governance
A meeting was held at the Presidential Secretariat yesterday (31) to inform the President about the private member's proposal presented by Parliamentarian Premanath C. Dolawatta, which will strengthen President Ranil Wickremesinghe's policy of increasing the opportunities for the youth community in the decision-making process of the country.
During the meeting, MP Dolawatta said that his private member's proposal, which has been submitted as a bill to amend the 262nd Local Government Elections Ordinance, adds constitutional value to the President's policy of providing more opportunities to the youth in elections, to strengthen the democratic representation system.
The MP also said that the draft includes the necessary provisions to confirm the youth representation of at least 25% in the first and second nomination lists of the local government elections.
He noted that according to the recommendations of the Special Commission appointed to look into youth unrest in 1990, the importance of ensuring greater opportunities for the youth in democratic representation systems was highlighted.
Accordingly, in 1990, by adding an amendment to the Local Government Ordinance, provisions were introduced to confirm 40% of opportunities in the preparation of local government nomination lists by political parties and independent groups, according to Dolawatta.
However, although a positive step was taken by confirming 25% representation of women in the local government bodies, the condition of mandatory youth representation was lost in the relevant amendment, noted Premanath C. Dolawatta. He also mentioned that he believes that his proposal will help the youth community, who are the future lifeblood of the nation, to actively contribute to the decision-making process by returning that opportunity to the youth community.
MP Dolawatta presented the private member's proposal to amend the Local Authorities Elections Ordinance (Chapter 262) which was published in the gazette on October 14, 2022.