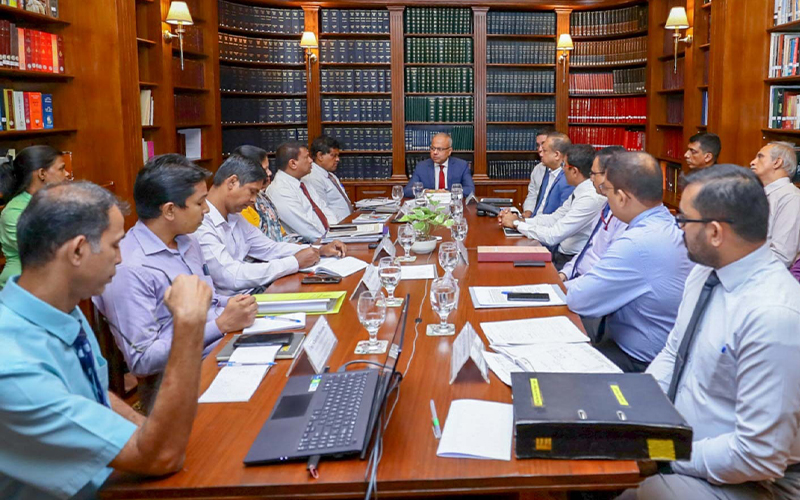 Published on: September 18, 2023
A comprehensive report on renovation initiatives for reservoirs, tanks, dams and water-carrying tunnels mandated within two weeks – President's Senior Advisor on National Security Sagala Ratnayaka
In a directive issued by Mr. Sagala Ratnayaka, the President's Senior Advisor on National Security and Chief of Staff has called upon relevant officials to furnish a comprehensive report within two-weeks. This report is to encompass a detailed assessment of the current safety conditions of all reservoirs, lakes, dams and water-carrying tunnels across the island. Additionally, it is expected to outline the necessary repair work required and provide an estimation of associated costs.
Mr. Ratnayaka emphasized the urgency of this report, underlining the need for prompt action to address any potential safety concerns. The report's ultimate aim is to facilitate informed decision-making at the highest levels of government.
The directive was delivered during a high-level meeting convened at the Presidential Secretariat today (18). Officials from relevant government institutions, including the Irrigation Department, the Sri Lanka Mahaweli Authority and the Electricity Board participated in the discussions.
During the meeting, a detailed discussion ensued regarding the technical safety aspects of reservoirs, dams and tunnels, specifically those belonging to the Irrigation Department, the Sri Lanka Mahaweli Authority and the Electricity Board. Particular attention was given to the challenges arising from blockages in water-carrying tunnels, necessitating their restoration by removing sedimentary deposits such as sand and mud.
Moreover, the potential impacts of recent seismic activity on the structural integrity of reservoirs and tunnels in the respective regions were assessed, as well as the recurrent annual impacts under normal operating conditions.
Engineers and senior officials representing the Irrigation Department, Sri Lanka Mahaweli Authority and Electricity Board actively participated in the extensive deliberations, reaffirming the government's commitment to ensuring the safety and reliability of critical water infrastructure.
The report is expected to be submitted to President Ranil Wickremesinghe and it will serve as a vital reference point for future policy decisions aimed at enhancing the resilience and functionality of Sri Lanka's water infrastructure.